29 october 2019
Accessibility to drinking water has been in the news in recent weeks. La Presse + published, in early October, a report on the dubious quality of water in some Quebec primary schools that contains more lead than the rate recommended by Health Canada. TVA Nouvelles reports that only 4% of schools have water fountains in playgrounds. Moreover, outdoor water points are often non-existent in newly constructed school yards. Access to water is so easy in our beautiful province and health experts are unanimous in encouraging young people to replace juice and sugar-sweetened beverages with water. It's great for your health and it's really good for the environment.
---
The water fountain, a simple solution to meet a primary need
At Source Omega, a Quebec company based on the North Shore of Montreal, we give ourselves the mission of providing a superior service and water, while fully meeting the ecological concerns of our customers, because the water fountains allow the elimination the use of disposable plastic bottles.
Among our many models of water fountains that suit the majority of needs, let us talk about two of them: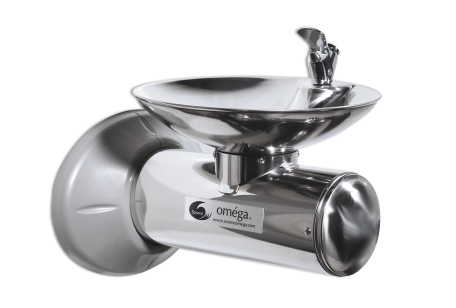 Ideal for schools and daycares, this fountain (SO-315) offers excellent value for the money and is ideal for people with reduced mobility. The base model is sold without cooling components and filters, but both options can be added as needed. Made of stainless steel, it resists corrosion and has no metallic after-taste.
The wall-mounted water fountain can also be installed indoors. It can be easily installed by the maintenance staff.
---
This water fountain, the SO-311 , has a pedestal and two cupolas placed at different heights to accommodate children and adults. It is therefore ideal for parks and public places, schools and daycares. Made of stainless steel, it does not corrode and gives no metallic taste to the water. Like the wall-mounted model, the pedestal fountain is available with or without refrigeration components and filters, as needed. It connects directly to the water system of the municipality.
---
Spring Inspection Program
Source Omega provides schools and school boards a spring inspection program for all water fountains to ensure their proper operation after the winter season. We can also repair most of the models on the market.
Thanks to its solutions, Source Omega simplifies accessibility to water for schools, daycares and public places. Do not hesitate to contact our team of advisors to inform them of the needs of your organization. It is with pleasure that we can prepare a proposal tailored to your needs.
Sources :
Écoles québécoises : trop de plomb dans l'eau
Le tiers des cours d'école n'obtient pas la note de passage